Penta Esports launches "Penta Challenge" Valorant tournament with 5,00,000 INR in Prize Pool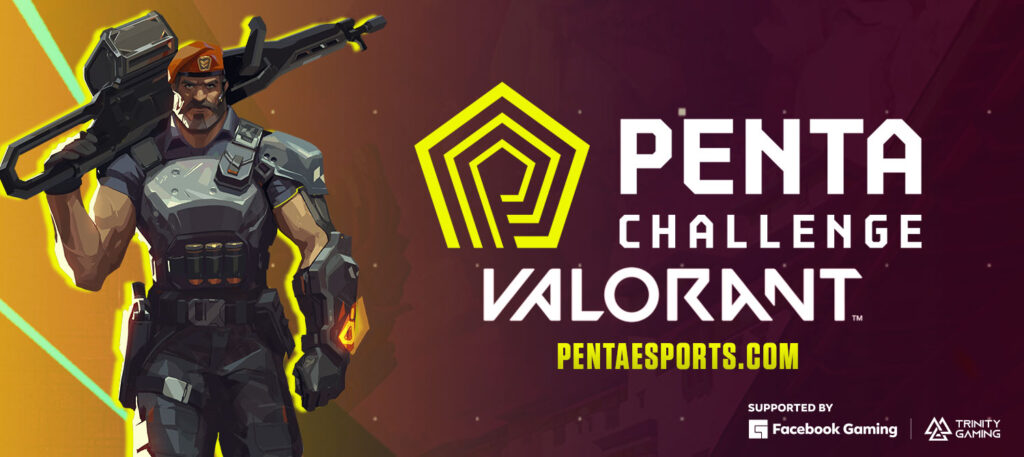 September 24th, India: Penta Esports, the esports division of Newgen Gaming has announced its upcoming tournament titled, 'Penta Challenge – Valorant', supported by Facebook Gaming and Trinity Gaming. This tournament will be a part of Penta Esports' newly launched IP, 'Penta Challenge'. Taking place from 5th to 24th October, the tournament has a prize pool of ₹5,00,000 and will have two open qualifiers between 5th to 10th October and 12th to 17th October, followed by a Grand Finale where 2 teams from each qualifier and 4 invited teams will battle it out for the winner's title.
The registrations for the tournament started on 24th September and will go on till 8th October on Penta Esports' newly launched platform. Matches will be broadcast quarter finals onwards for qualifier 1 and 2, while all matches from the Grand Finale will be broadcast. The matches will be available for streaming exclusively on Penta's Facebook Page.
Says Penta Esports CMO Akshay Paul "We've always had the vision to bring opportunities to the player and amazing viewing experience to the spectators and our newest IP, Penta Challenge, is a step in that direction. While we'll start with Valorant, going forward, we will have the Penta Challenge for multiple game titles."
Trinity Gaming founder and CEO Abhishek Agarwal says, "We're always on the lookout for good partners to be able to bring tournaments like these for the Indian esports community. Our vision is absolutely in line with the team at Penta Esports and we're sure this is going to be an amazing event!"
This event will also mark the launch of Penta Esports' platform, pentaesports.com. The platform will be a one stop destination for all things esports, including match schedules, match results, VODs of tournaments and leagues, content, news, announcements and much more.
The platform will allow users to discover and register for tournaments. It will also allow teams to create recruitment posts and players to find teams. This will enable a lot more players to participate in tournaments for team-based game titles.
Penta Esports head of esports, Kiran Noojibail said, "We've been working on this platform for a while and it feels rewarding to launch it for everyone. We wanted to create a platform for Indian esports players and enthusiasts, which encompasses all major aspects of esports. Penta Challenge – Valorant will be the first tournament for our platform and we look forward to building a strong community through the platform!"
Founded by industry veterans Anurag Khurana, Kiran Noojibail and Akshay Paul, Penta Esports aims to disrupt the ecosystem in India with a holistic approach towards the sector, including leagues, tournaments, content and much more.
Prize Pool for the tournament:
| | |
| --- | --- |
| Prize Pool | ₹5,00,000 |
| 1st | ₹2,25,000 |
| 2nd | ₹1,25,000 |
| 3rd/4th | ₹50,000 |
| 3rd/4th | ₹50,000 |
| 5th-8th | ₹10,000 |
| 5th-8th | ₹10,000 |
| 5th-8th | ₹10,000 |
| 5th-8th | ₹10,000 |
| Top Fragger of Grand Finale | ₹10,000 |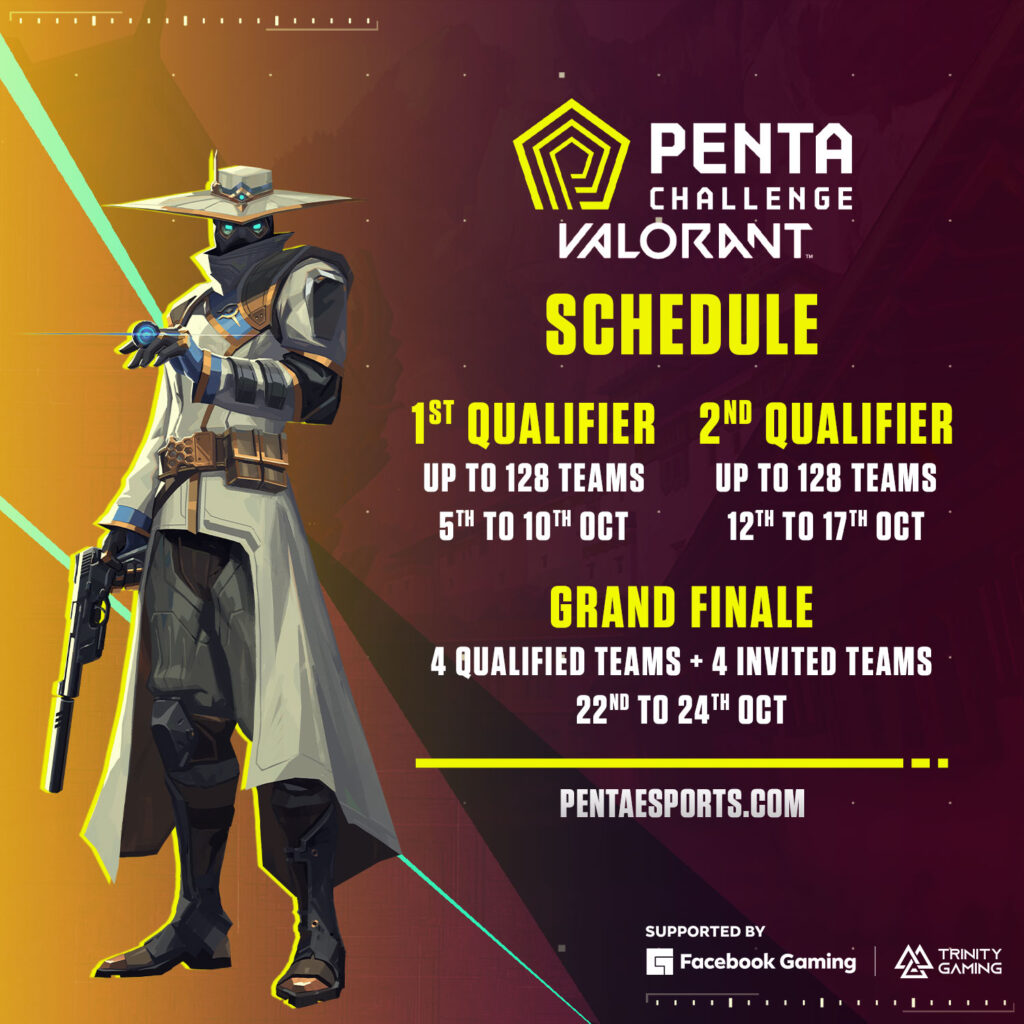 ---
About Penta Esports:
Founded in 2021, Penta Esports is the esports arm of Newgen Gaming, with a 360 degree approach towards the esports ecosystem of India. It's an all-in-one destination for esports in the country, including leagues, tournaments, content and more.
About Newgen Gaming:
Newgen gaming was born out of the zeal to democratise esports in India. Founded by a team of gamers and esports enthusiasts, the company intends to disrupt the Indian esports ecosystem, while providing opportunities to youngsters of the country who want to take up esports as a profession. Propelled by the idea of a holistic approach, the brand plans to extend its footprints across the entire esports ecosystem, including all its additional aspects. The company undertakes esports operations under its brand, Penta Esports.
About Trinity Gaming:
Trinity Gaming, founded by two young entrepreneurs, Abhishek Aggarwal and Shivam Rao who foresaw the need of having a Talent Management Firm for the gaming industry where gamers can be handheld to make a career. And hence in 2019, India's top gaming talent management firm, Trinity Gaming came into being.
With a tagline of Game, Connect and Build, Trinity Gaming helps beginners to make a serious career out of their passion and past time from gaming. The company is committed to encouraging gamers who want to pursue a career out of it. Currently, they manage more than 250 top content creators in India who specialize as entertainers and influencers for the gaming ecosystem.
Trinity Gaming has taken the profession to the next level by helping these content creators to monetise their craft via brand campaign partnerships where each of these creators is now proudly serving some of India's largest brands story experiences.