Team Nigma and Galaxy Racer Announce Merger to form Nigma Galaxy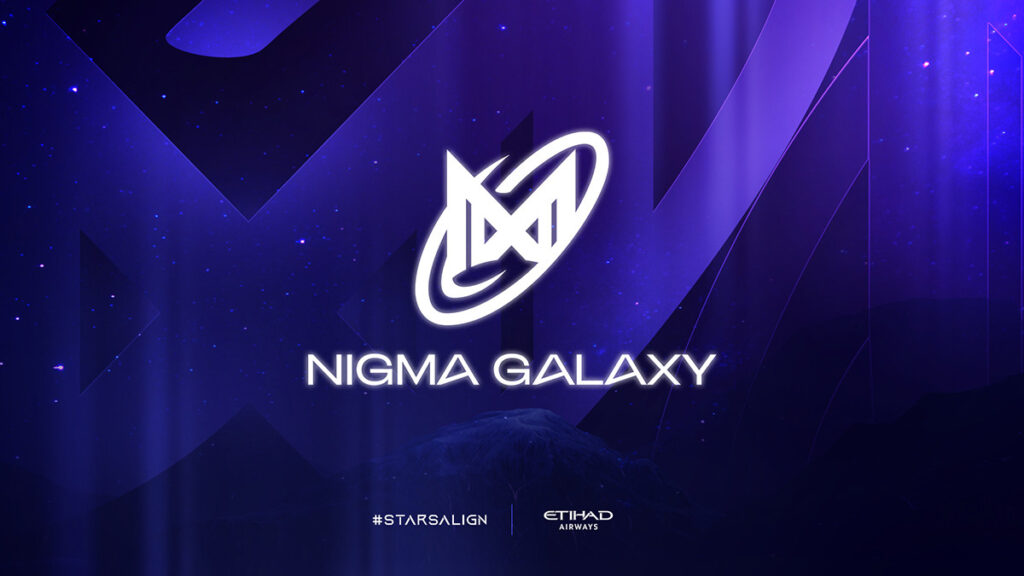 Team Nigma will head up the esports team division of Galaxy Racer, the fastest growing gaming and lifestyle organisation from MENA, to become Nigma Galaxy, which will house rosters across all major esports titles and will look to create better opportunities for players in the Middle East and become a globally recognised brand
Galaxy Racer, the biggest esports, content and lifestyle organisation, based in the Middle East, North Africa and South-East Asia, and Team Nigma, the biggest competitive gaming team in the MENA region, which was founded by The International 7 Champions, today announce they are merging to become Nigma Galaxy, a new esports powerhouse.
Based in Abu Dhabi, Team Nigma will become Nigma Galaxy, heading up the esports team division of Galaxy Racer which currently carries rosters across all major titles with over 60 players from over 20 countries. The merger will unite both brands, including their ambitions for the MENA region and international growth, while also allowing each to retain their visual identity.
Together the new organisation will look to build an authentic voice for the MENA region, establish itself as the #1 esports organisation in the world and give its players an international platform. Nigma Galaxy will look to become a household name for players of the region to be proud of, and with aspirations to become a global player it will also use existing resources from Galaxy Racer to expand further within Europe, South and North America, Southeast Asia and China.
Galaxy Racer launched in 2019 and has already become one of the biggest esports organisations globally, and the only entity in the MENA region with a significant international presence. The organisation prides itself on having five separate business offerings; Esports Teams, Content Creators, Tournaments Management, Merchandising and Lifestyle and GXR Records, a newly established record label that already carries two signed artists from MENA.
Within its first year of opening, Galaxy Racer onboarded some of the biggest content creators in the MENA and Asia regions and currently carries over 80 creators with a reach of over 370 million followers across all platforms. Its content creators roster includes some of the biggest YouTube channels with over 2 billion views across all platforms; Abo Flah, the biggest and fastest-growing gaming channel in the Arabic speaking world. Galaxy Racer also carries esports rosters across all major titles including League of Legends, VALORANT, CS:GO, Free Fire, PUBG MOBILE, BGMI and Fortnite.
Paul Roy, CEO and Founder of Galaxy Racer, commented:
"We are excited to announce our merger with Team Nigma to transform our competitive esports division into Nigma Galaxy.
Team Nigma's leadership team carries vast experience as professional players, which we believe will be a great asset to building and supporting all the teams under the Nigma Galaxy banner.
"Celebrating and nurturing the untapped gaming community around the world is what Galaxy Racer was founded on. With this merger, we believe we will be able to truly unlock this potential and shape the future of esports on a global scale."
Team Nigma, a professional Dota 2 esports organisation, was founded in 2019 by former Team Liquid members Mohamed Morad and Christoph Timm as well as four out of five of the champions of The International 2017, Miracle-, Gh, MinD_ContRoL and KuroKy. Within the
space of a year, Team Nigma secured a landmark partnership with Etihad Airways, the national airline of the UAE, becoming the first esports team to be sponsored by an airline. Based out of Abu Dhabi, Team Nigma also recently partnered with one of the largest telco providers, Etisalat, hosting the biggest Dota 2 tournament in the MENA region – 'Rising Stars'.
Mohammed Morad, Co-Founder of Team Nigma commented:
Nigma Galaxy and Galaxy Racer share a common goal of creating better opportunities in the Middle East and Asia to support home-grown talent. The Gulf Cooperation Council (GCC) and MENA region is considered to be one of the fastest-growing gaming sectors globally, with 100 million gamers playing in 2020 alone.
Nigma Galaxy will also join Abu Dhabi Gaming (AD Gaming), a new initiative that launched earlier this year. Pioneered by twofour54 Abu Dhabi, the initiative will champion the development of regional talent and bring a calendar of year-round gaming events to Abu Dhabi, and aggregates the emirate's drive to build a thriving gaming and esports ecosystem.
Nigma Galaxy website: www.nigmagalaxy.com