KRAFTON INDIA ESPORTS Launches Dedicated YouTube Channel and Instagram Page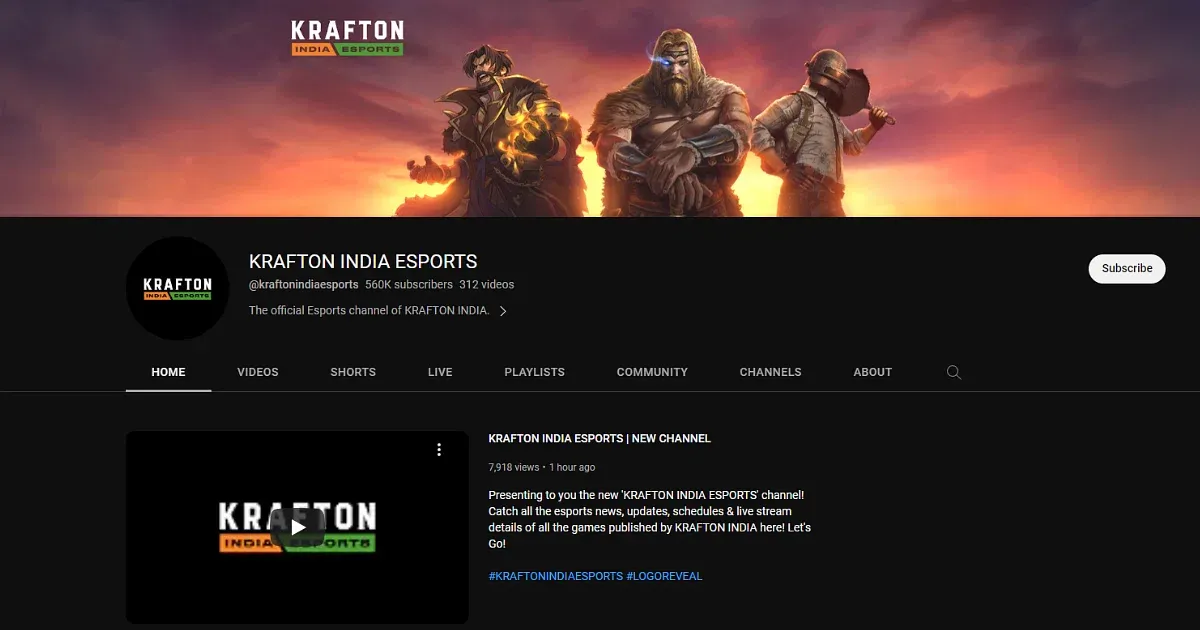 KRAFTON, Inc., the renowned South Korean video game developer, has taken a significant stride in the Indian market with the launch of its highly anticipated Esports YouTube Channel and Instagram Page, aptly named KRAFTON INDIA ESPORTS. This strategic move aims to cultivate and strengthen the Esports ecosystem within the country, providing a centralized platform for Esports enthusiasts to immerse themselves in captivating content, exhilarating competitions, and stay updated on the latest Esports events hosted by KRAFTON.
Fostering Growth: KRAFTON's Commitment to the Indian Market
As the CEO of KRAFTON, Inc. India, Sean Hyunil Sohn expressed his unwavering dedication to nurturing the thriving Esports culture in India. Sohn emphasized that India has always held a crucial position in their global market strategy, and the launch of dedicated Esports channels demonstrates their commitment to fostering engaging experiences and supporting the vibrant gaming community within the country.
Exciting Tournaments and Thrilling Competitions Await
To mark the launch of KRAFTON INDIA ESPORTS channels, KRAFTON has organized an exciting series of Road To Valor: Empires matches, scheduled to take place on the 26th of May from 4:00-6:00 pm. Gamers will have the opportunity to participate in exhilarating matches against KRAFTON developers, with the chance to win a rewarding prize of 1000 gems for the victorious player. The room ID details for participation will be shared on the YouTube chat, allowing one user to join at a time. Additionally, spectators will be treated to an electrifying 2v2 battle featuring the esteemed CEO of KRAFTON, Inc. India, Sean Hyunil Sohn, and the Head of India Publishing, Minu Lee.
Devs Vs Players: Showcasing Skills and Uniting the Gaming Community
Going forward, KRAFTON plans to organize developer vs player matches every Friday for its flagship titles. These events present an exciting opportunity for gamers to challenge the creators of their favorite games and showcase their exceptional skills. As a testament to KRAFTON's commitment to transparency and engagement, these thrilling showdowns will be live-streamed on the KRAFTON INDIA ESPORTS' YouTube channel, allowing the gaming community to immerse themselves in the action and share the exhilaration of these encounters.
An Exciting Announcement: Devs Vs Players Event
In the spirit of anticipation, KRAFTON has hinted at a major announcement regarding Road to Valor: Empires during the upcoming Devs Vs Players event. The event, scheduled for tomorrow, promises to captivate gamers and enthusiasts alike with groundbreaking news and insights into the highly popular game.
With the launch of KRAFTON INDIA ESPORTS YouTube Channel and Instagram Page, KRAFTON, Inc. has set the stage for an immersive and inclusive Esports community in India. Their commitment to nurturing the gaming ecosystem, coupled with the anticipation surrounding the Devs Vs Players event, showcases KRAFTON's dedication to delivering extraordinary experiences for Indian gamers. Stay tuned for more updates on KRAFTON's exciting Esports journey and witness the power of Esports unfold before your eyes on KRAFTON INDIA ESPORTS' YouTube channel.