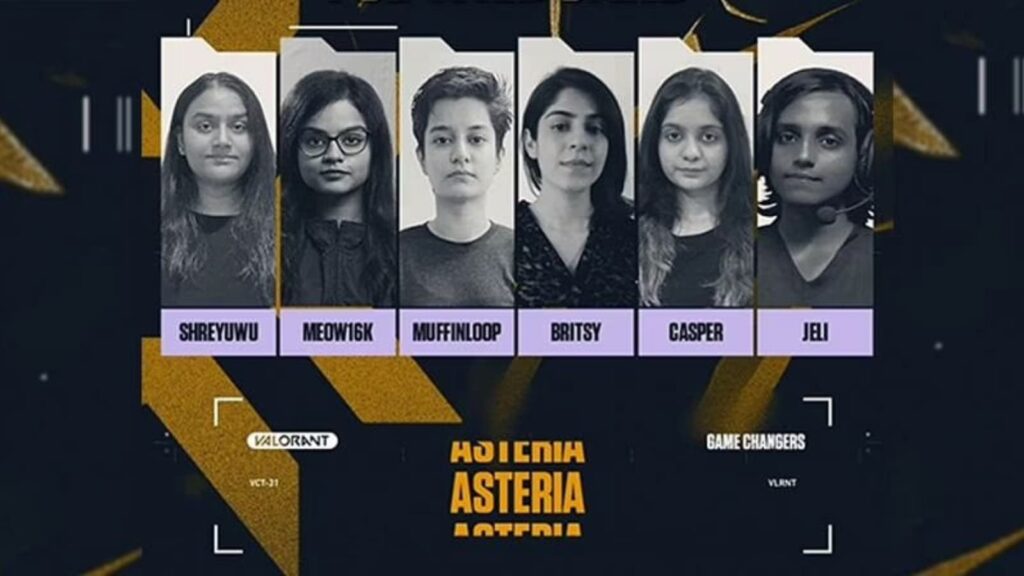 Women in Esports India:- Once seen to be as novelty limited to masculine and techie men, the esports industry is seeing a steady increase in the number of female participants on both a consumer and creator level. They are no less than their male counterparts, and they are more now than ever making their presence known. Women have become prominent patrons of the esports world, from heading esports companies, teams, and organisations to supporting and influencing the expansion of feminine affiliation with gaming. Women of all ages, places and socioeconomic backgrounds are interested in professional e-gaming. Esports is increasingly attracting women, who are drawn to them for their enthusiasm or as a feasible professional opportunity. A significant number of female professional gamers have recently emerged. These young gamers have proven that they are capable of competing with their male counterparts healthily and enjoyably, which promises to propel esports to greater heights. These professional gamers work together to create new content and interact with a larger audience. Women are trying to carve out a place for themselves in the world of online gaming whether as a gamer, a streamer, a game creator, or an entrepreneur. Women are playing an increasingly important role in the industry. In recent years, a large number of female influencers and businesses have risen to prominence. Aside from that, they have made a significant contribution to the creation of video games. Women account for 18 per cent of the gamers in India, according to the 'Think with Google APAC – Play like a Girl Report, 2020.' Furthermore, the number of female gamers is growing at a quicker rate than that of male gamers. Things are changing quickly, especially in the current situation.
Esports as a Career for Women
For women from all walks of life, the esports space now holds a bright future. More women are being recognised in the gaming business for their professionalism, experience, and passion for the game. However, a policy framework that caters to their demands is more important. Because many organisations are adapting to a more diversified workforce, the situation in the global market has begun to alter. Esports is changing, and women are creating quality content and flourishing in the industry. Esports has produced some well-known gamers and streamers. Sooneeta Thapa Magar, also known as Sooneeta, is a Nepali gamer, blogger, and Youtuber. She streams Free Fire on her YouTube channel, which has over 4.53 million subscribers and around 40 million views. She has more than 730 videos on her channel and around 565k followers on Instagram. She is estimated to have a net worth of INR 30-50 lakhs. Her primary source of revenue is through YouTube advertisements and her monthly payment is between INR 2-3 lakhs. Payal Dhare (PAYAL GAMING), from Chindwara, Madhya Pradesh, has 1.66 million YouTube subscribers and 832k Instagram followers. She is extremely skilled at gaming, which she streams regularly. She also broadcasts on the loco, and she's been gaming for over a year. She's also an Entity Gaming official streamer. Her live streams have attracted a large audience to her YouTube channel, where she is frequently seen competing alongside some of India's top players. She is currently the most subscribed female BGMI streamer, and her YouTube streams make her between $2.6K and $41.4K per month. Apart from her, Shagufta Iqbal (Xyaa), was the first Indian woman to enter the world of Esports. Her Youtube channel has over 269k subscribers, and she has over 118k Instagram followers. She also streams several games on Twitch, including Call of Duty: Warzone, and Apex Legends. Big companies like Logitech, Intel, Loco, and HP have all partnered with Xyaa. Ankkita Chauhan (Ankkita C) is another popular streamer with currently 274K subscribers and 95.6K Instagram followers. Ankita C streams titles such as Valorant, GTA 5, Apex Legends, and Call of Duty: Mobile, among others. Kaashvi Hiranandani (Kaash Plays), a BGMI streamer from Mumbai, Maharashtra, works as a content creator for Samurai ESports, an esports organisation. She often streams on her YouTube channel, which has 338K subscribers, and her Instagram account, which has 178K followers. She primarily streams BGMI, although she has also streamed a few other games with well-known streamers such as sc0ut. She earns between $397 and $6.4K every month.
Women in Esports India Issues faced
The world of esports is plagued with misogyny. Because women aren't regarded seriously as gamers, they're typically relegated to being content makers and live streams, exposing them to harassment and abuse. Many such cases arise daily. Trolls on one female streamer told her to go back to the kitchen and cook food. Incidents as such make female gamers concerned about their online safety. Meow16k, who started gaming using her brother's ID because she thought it was safer, was suspicious when a viewer offered her a gaming PC. Some believe that women will never be able to perform as well as men in sports. If a man supports them, he is taunted, which may cause him to reconsider returning to watch or support their content. When it comes to female gamers, not all gaming communities are accepting enough, and some are even considered toxic. Hundreds of women have spoken up in the last two years about the predatory and manipulative behaviour they have witnessed in the esports industry.
Since the MeToo Movement, there has been a flood of online stories and videos concerning women in the esports industry being disparaged and gaslighted at work by male executives, as well as being stalked, groomed, harassed, or treated with contempt online. It is indisputable that women in the gaming industry are exploited and undermined in the workplace and online by trolls, as evidenced by the increasing number of complaints about harassment, sexual predation, and misogynist bullying.
The average male and female player, as well as top men and women in Esports, earn vastly different amounts of money. Gender imbalance and the income gap are evident barriers for women who desire to work in the gaming industry. The dearth of female representation is due to a shockingly large wage difference, not because there are no female professionals in the sector. When it comes to honouring their champions, even the most prestigious multi-million dollar events are not immune to this societal evil. There have also been reports of famous women in the industry complaining about being paid far less than their male counterparts and being denied the opportunity to expand.
Women and girls are stereotyped as being uninterested in online gaming, implying that the esports industry still does not view women as a target demographic. This pattern is continuous in the design of most gaming content, where it is often evident that the games are largely intended to appeal to cis young men, from smartphone games, ios games, to internet games, and social media games. This says a lot about how the esports industry thinks, and it makes it difficult for female gamers to achieve success in the industry. Many female gamers feel disheartened when they are unable to play games that are ideal to them or that they would naturally choose to play. This is also one of the main reasons why women play video games less than men, simply because video games are not as well-designed for female audiences as they are for male audiences.
The Future of Women in Gaming
India currently has around 250 million gamers, with that number expected to rise to 368 million by 2022. The esports industry is expanding, and women account for a significant portion of this market. Because of the growing online gaming culture, women are becoming more visible in the esports industry. Female gamers are also becoming more popular. People of diverse ethnicities and geographical locations are increasingly welcome in the industry. The increase in female gamers over time demonstrates this. Casual players account for a substantial number of these players, and the emergence of mobile gaming has aided this tendency. This suggests that it's past time for us to start having the required talks to lay the basis for the shining stars that female gamers and creators are. We may learn from women game developers in Southeast Asia, who are constantly improving existing games and developing new formats with art styles and graphics that cater to female gamers.
With the increased accessibility and affordability of gaming technology, women's participation in esports is expected to skyrocket in the future years. Simultaneously, the industry should change for the better and become more inclusive and push women to participate as players, content creators, and hosts. This is an excellent opportunity for female gamers and creators to break into and shape this rapidly growing industry. The ultimate goal is to have more women in positions of choice and genuine influence over the global future of esports. There is still a long way to go, but the industry is more aware than ever of the benefits that female executives can offer to this field. Women in esports need more support from stakeholders. Empowering women in esports should start early, as it will have a significant impact on how others regard them as they progress from amateur to professional.
It's not been easy for women to keep moving up the ranks in competitive gaming while also feeling appreciated by the community. Game publishers and esports organisations must work together to create more welcoming environments in which everyone may feel welcome. We simply want to see the most skilled team or individual — male, female, or non-binary – climb to the top and be recognised as the champion in esports. The most important activity we can make is to hire females to export departments and teams and then provide them with the support, mentoring, and promotion they need to become leaders.
Women will reach a wider audience if they are offered diverse content to work with. As a result, it's critical to make sure the woman is present in all of the scene's spaces. The esports sector must be as inclusive as possible to develop. After all, the esports audience is varied, and the number of female audiences is on the rise. We need to improve it by encouraging more women to participate in competitions, content production and casting, and administration. Encourage competitive teams, technical production teams, and the rest of the organisations to adopt this mindset.
Women will reach a wider audience if they are offered diverse content to work with. As a result, it's critical to make sure the woman is present in all of the scene's spaces. The esports sector must be as inclusive as possible to develop. After all, the esports audience is varied, and the number of female audiences is on the rise. We need to improve it by encouraging more women to participate in competitions, content production and casting, and administration. Encourage competitive teams, technical production teams, and the rest of the organisations to adopt this mindset.
with Valkyrae, the most popular female streamer, on a highlighted bespoke salad dish to boost sales. It's also fine for men in esports leadership positions who don't always know how to handle difficult issues involving women to seek out and speak directly to her about it. You'll be shocked at what you learn and how frequently women laugh off words or acts that bother them deeply. This shows that you value them as professionals as well as humans.
Article By: Shireen