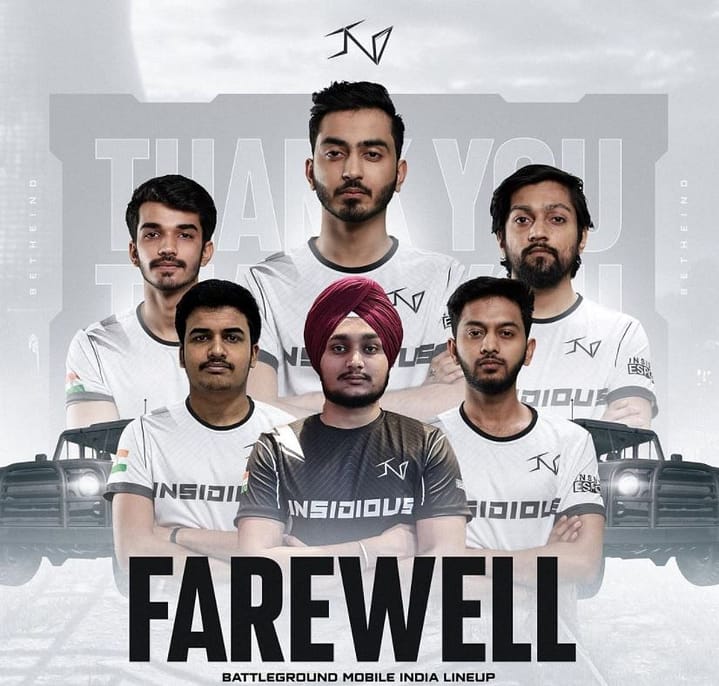 Team IND also known as Team Insidious, the popular esports organization has announced a farewell to their BGMI roster. The farewell was announced on the social media handles of Team Mind. The players have not yet announced whether they will play together or apart in future tournaments.
"From being part of the seed of this organization to most of the achievements, all of these guys are an integral part of TeamIND. It's a very difficult goodbye for us. But for a better future because life is a cycle filled with change. We wish all the best to our boys for their adventure in the future." Said TeamIND.
TeamIND BGMI Roster
● Kratos (Samir Choubey)
● Trance (Kaustubh Walia)
● Snax (Raj Varma)
● Daljitsk (Daljit Singh)
● Slayer (Kanishk Shah)
● Aatanki (Randeep Singh Bhullar)
Team IND was one of the best BGMI teams in the region and the players had a big part in creating a history of achievements for the organization. The organization has been competing in the mobile esports scene since the start of the game. The biggest achievement of the team was back in 2019 where they finished in the second position of PMCO: India Spring Split. The squad was together even after the PUBG Mobile ban and succeeded in winning the first official event after the launch of the game which was the Launch Party
During the earlier phase of the organization, the team also included an influencer player sc0utOP. The lineup of sc0utOP, Trance Kratos, and Daljitsk were the first team to represent India at a global event – PMCO: Global Finals Spring 2019 Berlin. Team IND is the only BGMI
organization to represent India in all three formats of PUBG Mobile Global Events. The team has played in PUBG Mobile World League 2020, PMCO: Global Finals Spring and Fall 2019.
The fans were not expecting the release of the roster and it was shocking news for the followers. Earlier, Team IND released their CODM roster. The CODM roster was later acquired by GodLike. It will be a mystery for the fans to see which organization will acquire the Team
IND's BGMI roster.
Article By: Tanay