Which team will make it to finals of BGIS
Battleground Mobile India (BGMI)'s first and major Esports event "Battleground Mobile India Series" (BGIS) is closing to its ultimate stage of Grand Finale. Almost a month-long of sheer hard work, dedication, and ages of grind are about to give India its 16 current Best Teams.
BGIS has been in talks for several interesting twists, shocking exits of professional squads, and nail bitting matchups. Adding to the courtesy audience is eager to witness another day full of surprises and high voltage drama. BGIS SemiFinals which started on 7th January 2022 will enter its last day journey today. Following the endless struggling days and wide wake nights, all the 24 top teams will eye on 16 precious tickets to Grand Finale to compete for glory and shitload of the prize pool.
3 days of Semi-Finals were nothing but a realm of a roller coaster ride. Many Teams showed a brilliant piece of consistency whereas some fan-favorite squads and qualified squads failed considerably to cope up with the pressure of the big stage.
Day 1 of Semi-Finals started with early domination of rising talent 'Tactical Esports' as they grabbed back-to-back victories taking them to the initial top spot. Counted in India's most aggressive lineups Saumraj led Skyightz Gaming brought a different level of consistency as they took the lobby on fire after their accounted chicken dinner in the final match of the day.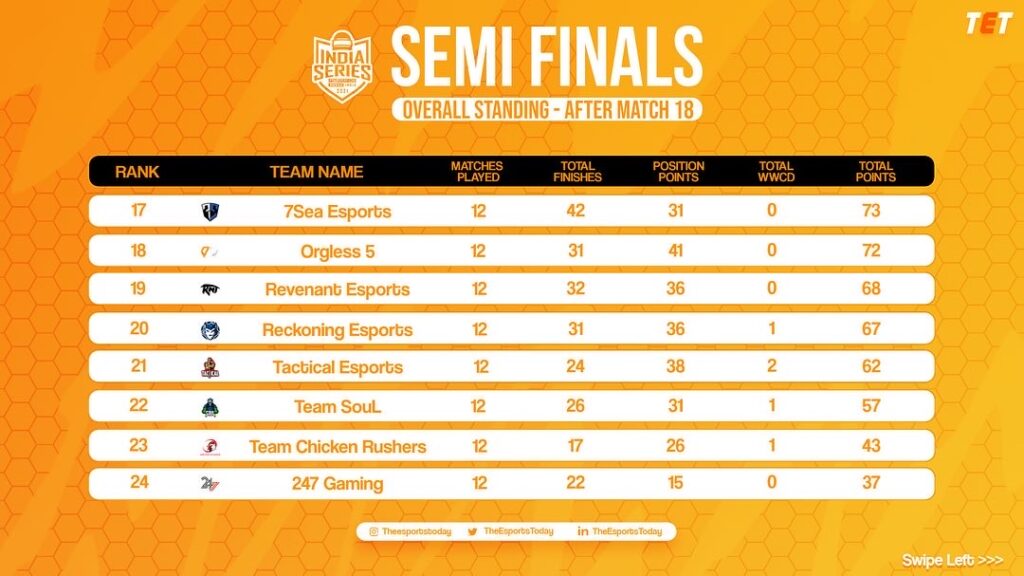 Experienced lineups including OR Esports, Deadly boys of Godlike Esports, Young Gun 'TSM' and table-turning experts R esports outplayed 'Tactical Esports' putting consistent performances rest of the day.
Day 2 of Semi-Finals was a day of mixed emotions, Apart from Skylightz's Consistent hold on the #1 spot, points table widely in every single match. India's one of the most loved teams Xspark and SouL made edged comebacks as they came on top in 3rd and 5th Map respectively, defying all odds and resisting the pressure of getting eliminated. Stars of Southern Derby 'Hyderabad Hydras' put on terrific gameplay taking them from bottom to first chart even after staying vegan throughout. Additionally a not-so-underdog team full of surprises 'Udog India' which ended their day 1 of disappointment in the bottom chart took a major jump in top 8 when they took one-sided chicken dinner in the very first match of the day. On the other side, likes of 7 Sea Esports, Revanant Esports, and first-day achievers Tactical Esports dropped to #20, #18, and #11 respectively after 4 poor outings.
Day 3 of the penultimate stage was an eye-opener for all 24 teams grinding to stay in the top 16. Starting with another underdog climbing the hill, Celsius Esports took a major jump after dominating the lobby in the very first game of the day followed by another rising boys 'COxRIPMizo' coming out on top in the second match. Skylightz Gaming continued their dream run in Semi-Finals even after failing to grab chicken dinner as Saumraj and Pukar showcased ruthless aggression grabbing MVPs for each of the lads. Consistent Performances of Udog India and Hyderabad Hydras with another top finish in their bags helped them to jump further in the first chart. Team XSpark with a dominating victory in their forte of Miramar almost secured their ticket to the finale as they closed the day with a #8 finish. Many Teams including R esports, Tactical Esports, and strong contending professionals failed miserably in their matches preventing them to enter the top 16 by the end of the day.
EXPECTATIONS FROM LAST DAY OF BGIS SEMIFINALS
Moving on to the last 6 matches of Semi-Finals every team will eye for 'YOLO' gameplay to ensure Top 16 Finish by the end of the final day. Table Toppers including Skylightz, TeamXO, OR Esports, Hyderabad Hydras will continue to find answers to their rarely left errors before entering the do or die battle. Scout and Mavi's Golden Duo will eye for a top 5 finish finding momentum and rectification of faults as stated by Scout AKA 'Tanmay Singh' in his interview on Day 3. Tensions and Plannings will persist in the camps of many underdog teams which came here after tons of struggles and hard work, to grab those final slots. After lowkey outings in the first three days, OG Lineups of Revenant Esports and 7 Sea Esports will have to take lobbies on fire to defy odds of getting eliminated without getting shot at the trophy. Situations will be much hard in the house of Team SouL as they will try their way best to make a dream comeback in the last 4 matches. Following a good outing on Day 2, lads were unfortunate during rotations leading to early exits on Day 3. It will be exciting to see how Roxx's captaincy will take Team SouL in Grand Finals.
Which Team Do You Think will make it to the finals from the bottom of the table? Do Share Your Views In the Comment Section Below and don't forget to tune in to BGMI Official Youtube Channel from 5 pm IST to cheer your favorite squads as they go all in for one last time to grab Finale Tickets.