The Esports Premier League (ESPL) 2021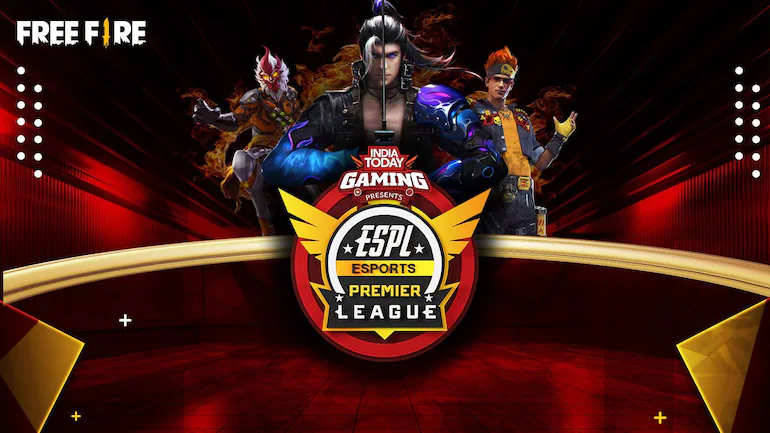 On May 14th, 2021, India Today Gaming, in collaboration with Garena, announced the inaugural edition of the Esports Premier League (ESPL) 2021, a countrywide franchise-based Free Fire tournament which is the first of its kind. As the title sponsor, the organizers teamed with smartphone manufacturer Infinix Mobile.
The event's title sponsor being Infinix Mobile shows the reach of esports in the smartphone market. PTC Chak de was also named as the "Powered by" partner for ESPL 2021. The list goes on with SunFest Yippee Noodles as the event's Snacking Partner. In terms of media partners, they collaborated with AajTak and TalkEsport to present the competition to a global audience. Ishq 104.3 FM was the radio partner, and Disney+ Hotstar, Koode, and Booyah were the streaming partners on this list.
ESPL 2021 became one of the first eSports competitions to sign an Indian actor as the tournament's face. With its collaboration with Bollywood star Tiger Shroff, both sides hoped to create an ecosystem in the Indian eSports market that has never existed before.
Mr. Vishwalok Nath, ESPL Director, said that one of the key goals for ESPL has been to reach out to every millennial and gamer in the country and that their intention in getting Tiger Shroff aboard has been to develop a much deeper relationship and grow the gaming community and help to intensify their efforts to take eSports to the next level in India.
The ESPL 2021 tournament was a 2.5-month-long national tournament. There was also a total prize pool of Rs. 25 lakhs for the finest Free Fire talent in the country. Following that, the prize pool was divided among the top eight teams in the finals. Aside from that, the Most Valuable Player and Fan Favorite players from the finals each received Rs. 30,000 from India Today Gaming. The tournament's qualification rounds, which began at the first level on June 16, 2021, were held online due to the pandemic.
There were over 700 online matches and more than 300 hours of gaming content all in all. Each match had a live broadcast available in six languages: Hindi, English, Kannada, Telugu, Tamil, and Bengali. The live stream broadcasts were also available on India Today Gaming's YouTube and Facebook feeds, as well as India Today and Aaj Tak's.
ESPL FORMAT BRIEF
To choose the top-performing teams, the ESPL used the "Versus," "Best of 5", and "Best of 8" formats. The ESPL was a team-based tournament that required a four-player squad. In addition to the four members, one more substitute was required in the event of an emergency. It was separated into four sections. Level 1 of the ESPL 2021 consisted of four groups, each of which had a mix of amateur and semi-professional teams from across the country contending for a berth in the top 22 teams from each group. After a total of 88 teams qualified for level 2 and were then joined with the 8 invited teams, only 8 teams qualified for level 3.
TEAM INAUGURATION
In the inaugural edition of the nation-wide Esports league, which was conducted on August 16, the Esports Premier League (ESPL) selected these top eight teams as the ultimate face-off. State ministers from seven different states unveiled their franchise team names, logos, and uniforms. A drafting method was used to choose the final eight franchise teams and players. BADGE99, Total Gaming, 4 UNKNOWN, TSM FTX, No Chance, AFF Esports, Head Hunters, and TWO SIDE GAMERS were among the teams who qualified for the drafting stage through various levels of the competition. Each of these teams was chosen to represent a city team, and at the end of the process, popular influencers and Esports gamers were enlisted to manage the process.
Mr. V Srinivas Goud, Hon'ble Minister of Sports & Youth Services, Government of Telangana, revealed the Hyderabad franchise team, Hyderabad Hydras, which was represented by Total Gaming eSports. He remarked during the unveiling that once youth develops an interest in Esports, they become mentally sharp and do not pick up negative habits as a way to pass the time.
Mr. Sunil Chhatrapal Kedar, Hon'ble Minister of Sports and Youth Welfare Govt. of Maharashtra, revealed the Mumbai franchise team, Mumbai marshals, represented by TSM FTX, saying that he was pleased to say a few words about the fantastic new approach for many kids and many future generations to come.
Revealing the Delhi franchise team, the Delhi Dukes, represented by AFF eSports, Mr. Manish Sisodia, Hon'ble Deputy Chief Minister of Delhi said that in India, Esports is a novel concept, and India Today's squad is four steps ahead of its rivals in Esports. He, on behalf of Delhi, said that he is thrilled to be a part of such pan-India esports competitions.
Mr. Manoj Tiwary, Hon'ble Minister of Department of Youth Services and Sports, Government of West Bengal, revealed the Kolkata franchise team, Kolkata Kaijus, represented by Badge99, said that he wanted to congratulate everyone who is competing in the ESPL and it's going to be incredible and that as a citizen of Kolkata, he would root for them and wish them all the best.
The Rajasthan franchise team, Rajasthan Reapers, represented by 4 Unknown, was revealed by Mr. Ashok Chandna, Hon'ble Minister of Sports & Youth Affairs Govt. of Rajasthan. He cordially congratulated the players of Rajasthan Reapers and wished them to perform very well and make Rajasthan proud.
​​Mr. Rana Gurmeet Singh Sodhi, Hon'ble Minister of Sports and Youth Affairs revealed the Punjab franchise team, Punjab Paladins, represented by Head Hunters. He remarked during the unveiling that he thinks it's a tremendous move performed by the India Today team who are prioritizing Esports and that he believes that the India Today Group who are pushing Esports will go a long way.
Balaji Patturaj, also known as RJ Balaji, an Indian radio jockey, presenter, comedian, filmmaker, cricket pundit, and actor living in Chennai, Tamil Nadu, revealed the Chennai Celestials team, represented by No Chance. He wished India Today Gaming's ESPL 2021 the best of luck, as well as the Chennai Celestials' players.
Mr. KC Narayana Gowda, the Hon'ble Minister of Department of Youth Empowerment and Sports, Department of Planning, Government of Karnataka, revealed Team Bangalore Ballistics, represented by TWO SIDE GAMERS. He stated at the unveiling event that the government encourages taking eSports to a higher level and he would also like India Today to encourage the children and youth to participate in the same.
SEMI-FINALS AND GRAND FINALE
The ESPL 2021 then moved on to the Level 3 stage, which began on August 16th and featured matches between already qualifying teams from the Level 2 stage. The voyage of teams Chennai Celestials, Hyderabad Hydras, and Punjab Paladins in the ESPL 2021 concluded with losses in the lower bracket matchups, with the final team, Rajasthan Reapers, qualifying for the semi-finals. The Level 3 matches served as a seeding event, determining which teams would compete in the upper bracket and which would fight in the lower bracket. On the Bermuda, Kalahari, Bermuda, Kalahari, and Bermuda maps, the Semi-Final and Grand Final matches were conducted in a Bo5 format. Each map had a total of seven rounds, with the first team to win four rounds winning the map.
The semi-finals began with a match between Bangalore Ballistics and Mumbai Marshals. Both sides had strong comebacks and dominating tactics, but in the end, it was the Bangalore Ballistics' methods that prevailed, as they won the match by a scoreline of 3:1. This sent Mumbai Marshals to the lower bracket, where they defeated Rajasthan Reapers by 3:2 to earn a spot in the grand final. On August 29th, two of the most outstanding and skilled teams from the final stage, Bangalore Ballistics and Mumbai Marshals, faced off in a dramatic grand finale after two and a half months of virtual play. In a close race, the Mumbai team won the prestigious title by a score of 1:4 over the opposition.
PRIZE CEREMONY
The Mumbai Marshals, who were represented by TSM at the ESPL 2021, were named India's finest Free Fire team. Mumbai Marshals were victorious at ESPL2021, owing to Indro (Indranil Saha), MrJay (Jayesh Yadav), Amadron (Asjad Khateeb), Illuminati (Sagar Patel), and Oldmonk (Naitik Khosto). The champions and runner-ups were presented with trophies and cash awards at a city hotel on August 30, 2021, in the company of Deputy Chief Minister of Delhi Mr Manish Sisodia and Ms Kalli Purie, Vice Chairperson, India Today Group. After outshining their opponents in the highly contested Free Fire tournament, the young guys brought home Rs 12 lakh. MrJay was awarded the Most Valuable Player of the ESPL 2021, with 74 kills and a prize of Rs. 30,000.
Sagar Patel, who also works in real estate development, spoke to India today about how they got into Free Fire gaming, emphasizing that the esports sector in India is growing at an unparalleled rate. He said that they had the opportunity to represent teams from outside at a prior tournament, which was also hosted by India Today as there were not many tournaments of that magnitude taking place in India at the time. However, after seeing the tournament, they were optimistic that more tournaments like it would be held in India. He stated that even though the esports scene is only getting started, it's picking up steam. He also said the team spends close to 10-11 hours a day polishing their abilities in preparation for major competitions and has been playing for three years, playing a competitive match every day now that esports tournaments are blooming.
Indro, who is also a YouTube content creator, talked about how switching up the team's attacking composition helped them win the grand final. He praised Amadron, who replaced Jay in sniping. Jay was then kept on the front lines, which was his competence, according to Indro. He also talked about how their families began to understand their esports careers when they won significant tournaments. He said that the team hasn't had any problems with their families as they are quite supportive and it was when they started winning tournaments, that the support came in, as they were initially unaware of eSports. But when they watched them competing and winning on YouTube, and because casters highlighted the team, their families realized that new doors are opening for gamers. Indro strongly believed that tournaments like the ESPL enhanced their situation.
Teams Banglore Ballistics and Rajasthan REapers placed second and third, winning Rs 6,00,000 and Rs 3,00,000, respectively. Mr Vishwalok Nath, Director of ESPL, stated that in the last few months, it felt like an Esports festival was taking place. There was a massive outpouring of support from across the country. The gamers brought their A-game to the competition, which was nothing short of outstanding. He hoped that the athletes would build on their experience and win medals for their country in the future. Mr. Manish Sisodia, the Deputy Chief Minister of Delhi, also pledged his complete support for esports activities in the city. He backed the ESPL wholeheartedly and urged other state governments to do the same by supporting esports tournament organizers and promoting tournaments like the ESPL locally. Mr. Manish Sisodia also unveiled the logo for the next World Esports Cup, which will be hosted by India Today Gaming. The World Esports Cup will be India Today Gaming's next major eSports IP, to establish India as a global Esports powerhouse.
By successfully holding a big Free Fire event, India Today Gaming has raised the bar for Indian esports. The event drew a million participants and was live-streamed on Disney+ Hotstar, Free Fire's official streaming platform Booyah, and Malayalam OTT platform Koode, as well as India Today and Aaj Tak's official YouTube and Facebook channels and websites, with over 100 million views in all. This event was a huge success on numerous levels, with enormous marketing and strong support being two of the most important aspects. India's esports industry has grown in popularity and is now beginning to be understood by the general public, though can still be misunderstood by the government. Thus, there is a great need for more events like this to spread more awareness about its significance as well. According to Mr Nath, many ministers already knew about the esports business and promised to help fund this event, but the organisers struggled to get some of them on board. Some ministers mistook gaming or esports for gambling or real-money games in which individuals wager on other players' performance. Mr Nath went into great detail to explain to the officials how the two concepts vary and how the esports market is booming around the world. He backed his viewpoint with information such as the fact that esports has been accepted into the Asian Games and may be introduced to the Olympics in the future. This paved the way for officials to join the ESPL and attend various events such as team announcements and other activities. Esports is a rapidly growing market in India, with significant events such as the ESPL 2021 contributing to that growth. The ESPL and subsequent editions will undoubtedly aid in the expansion of Indian esports on a larger scale. This league has grown in popularity across the country as the number of viewers and players in the Indian eSports community has grown, and with constant support from government authorities, it can reach new heights.
-Report by Shireen