Free Fire MAX Chroma Futura Event: Upcoming Rewards & Events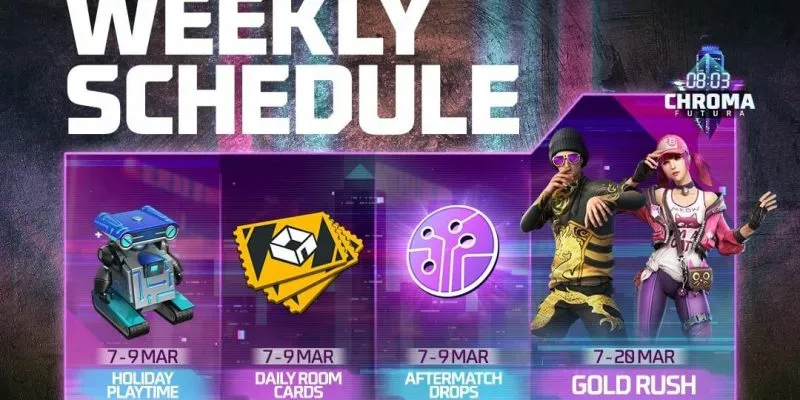 Free Fire MAX, the Indian edition of Garena Free Fire, is currently commemorating the festival of Holi with great fervor by means of the Free Fire Max Chroma Futura Event. In addition to the usual events, such as Top-up and Luck Royale, the forthcoming weeks will witness an array of thrilling rewards being offered to the players.
Garena has disclosed a weekly agenda that highlights the various elements that we can expect to see in the game. So, let us take a look at the upcoming activities and their associated rewards.
Free Fire MAX Chroma Futura Event: Unveiling the Upcoming Celebratory Activities and Rewards Amidst the Ongoing Holi Revelry
Garena always strives to integrate major events, campaigns, and partnerships during diverse cultural festivities. The newest addition features the Event. The players are now approaching the pinnacle of the event, that is, March 8, 2023, and hence, there is a plethora of exciting things that are in store for them. The developer has released a weekly schedule to provide transparency to its audience.
Upcoming Celebratory Activities and Rewards
At least four events are slated to be available during this peak period. Here is a list of the activities.
Holiday Playtime (March 7 – March 9)
Daily Room Cards (March 7 – March 9)
Aftermatch Drops (March 7 – March 9)
Gold Rush Event (March 7 – March 20)
The developers have already implemented a daily mission and exchange store event for the players. It is likely that the same event will be called Blaze of Glory. It will commence on March 10 and remain available until March 21, 2023. In this event, the players will need to complete missions and earn rewards. The collectibles of the event include at least three emotes – Great Conductor, Starry Hands, and Kongfu.
Therefore, these are all the details pertaining to the upcoming celebratory activities and the associated rewards. There will be additional events and rewards that will be introduced with the upcoming OB39 Update, which is set to arrive in a few weeks. So, stay tuned.