Skyesports League Returns With Pokémon UNITE Action In A City-Based Format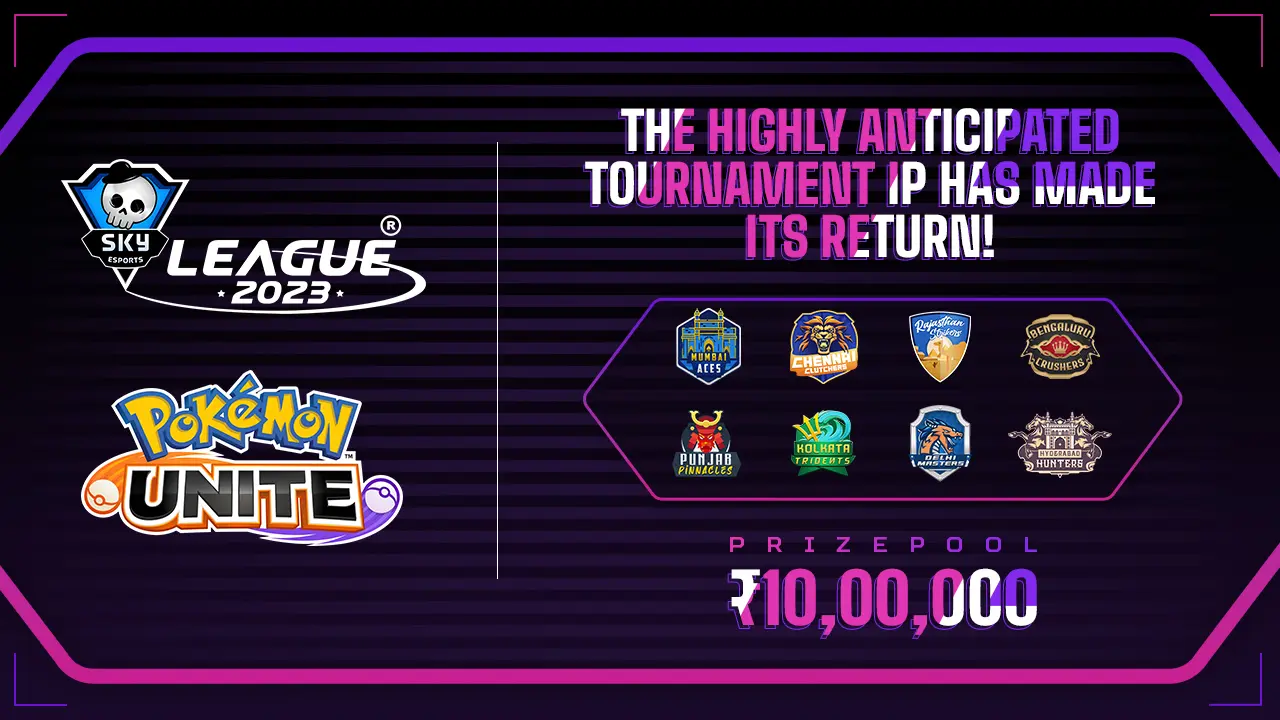 The Skyesports League is back in 2023 with a new game joining the city-based IP for the first time. Indian Pokémon UNITE fans gear up, as the Skyesports League 2023 will see the eight city-based teams fighting for the title and a share of the humongous Rs. 10,00,000 prize pool.
The Skyesports League is one of the most anticipated esports IPs in India, particularly because of its unique city-based format. Each organization represents a different city, paving the way for regionalisation. The teams in the Skyesports League 2023 – Pokémon UNITE are as follows:
Bengaluru Crushers: Gods Reign
Mumbai Aces: S8UL
Hyderabad Nawabs: Marcos Gaming
Chennai Cluthchers: Revenant Esports
Pune Pros: GodLike Esports
Delhi Dragons: 7Sea Esports
Punjab Pinnacles: FS Esports
Kolkata Tridents: True Rippers
There are a lot of surprises in store as the teams will also be fielding an influencer in their rosters to add to the excitement. Fans can expect to see creators like Mortal, 8Bit Mercy, Savage Girl Gaming, and Saumraj in the event.
The Skyesports League 2023 – Pokémon UNITE will happen across a league stage and the playoffs from April 24 to May 10. In the League Stage, the teams will compete amongst each other in a single round-robin format. The top four teams will then advance to the Playoffs to crown first-ever Pokémon UNITE champions in the Skyesports League.
The League Stage will take place from April 24 to May 7 while the Playoffs action will happen between May 8 and 10.
Fans can catch all the action live on the Skyesports YouTube channel in English and Hindi.
Commenting on the return of the Skyesports League with Pokémon UNITE, Shiva Nandy, Founder and CEO, Skyesports, said, "With the IPL frenzy engulfing the country, we are thrilled to bring a similar city-based action for esports fans. Pokémon UNITE is quickly becoming one of the leading esports titles in India and it's high time that the game gets a tournament of this scale. The city-based format will ensure a deeper regional penetration for the title for the first time in the country. This is a model we have implemented before as well with VALORANT in 2021, which is to date the most viewed single tournament for the PC title in India."
The Rs. 10,00,000 prize pool will be split as follows:
Champion: Rs. 4,00,000
Runners-up: Rs. 2,50,000
3rd place: Rs. 1,00,000
4th place: Rs. 50,000
5th to 8th place: Rs. 25,000 each